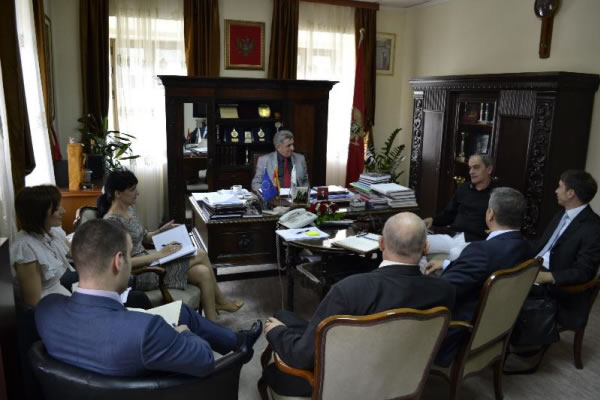 On 17th June 2016, the President of the Municipality of Danilovgrad, Branislav Đuranović, and his associates, hosted a delegation of the Montenegrin Pan-European Union (MPEU), which was comprised of Vice-Presidents Dragan Jočić, Rajko Uskoković and Đorđe Raičević, as well as Secretary General Vladan Lalović.
Representatives of the Montenegrin Pan-European Union presented the work of this organization which represents the branch of the International Pan-European Union. The MPEU was founded on May 17th 2016, led by prof. dr Gordana Đurović, aiming to support the process of European integration of Montenegro, as well as linking local government bodies with appropriate levels of administration in the countries of the region and the countries of the European Union. Branislav Đuranović, the Mayor of Danilovgrad, expressed his satisfaction with the visit of the delegation of the Montenegrin branch of this oldest movement for the unification of Europe. The distinguished guests were introduced to local government activities in the field of international cooperation and European integration.
He reminded that the Municipality of Danilovgrad successfully implemented projects from the Instrument for Pre-Accession Assistance of the European Union (IPA funds) and has intensive cooperation with several local administrations from the region and the EU through the exchange of knowledge, experience, joint preparation and implementation of projects. At the end of the meeting, it was jointly noted that it will be discussed the suitable models of cooperation, which, in addition to promotion of the achieved results, will enable the municipality to connect with potential partners for the implementation of international projects.