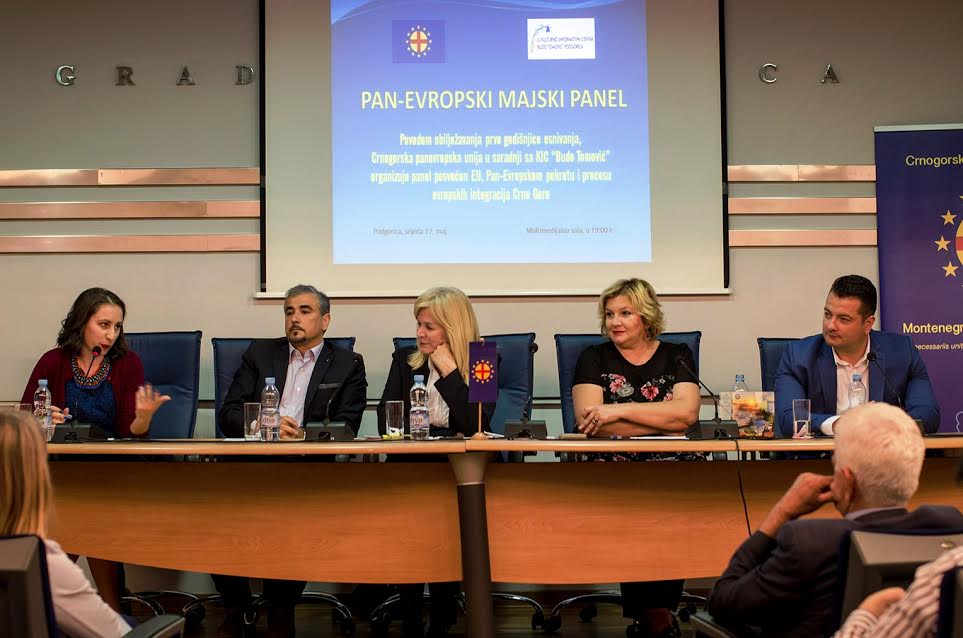 The Montenegrin Pan-European Union (MPEU) and the Cultural-Information Center "Budo Tomovic" (KIC) have organized a very successful "Pan-European May Panel" dedicated to the European Union, the Pan-European movement and the European integration process of Montenegro on the occasion of the first anniversary of the MPEU foundation. Prof. dr Gordana Đurović, MPEU President, reminded that these days we are marking five years of negotiations with the EU, stressing that during the integration process we should be interested primarily in qualitative preparing standards for incorporation of European standards in negotiating areas, preparing well for future membership in all areas in which we negotiate, not being only interested in when we are going to end the negotiations. Moreover, Ms. Đurović recalled that it is nice that Montenegro is in the International Pan-European Union through MPEU, in the society of more than 30 European countries, and the Montenegrin Pan-European Union will continue to expand its network of strategic partnerships with institutions in the country, for example with the KIC, with which this beautiful panel was realized as the first joint project.
Mr. Vladan Lalović, Secretary General of the MPEU, spoke about the historical context, goals and values of the Pan-European Union, pointing out that the European idea is historically founded and that the unification of Europe is a long-term process that should contribute to a better standard of living for all citizens; the European Union is not only a process that should contribute to a better standard of living for all citizens, but also the belief and conviction that it is most prosperous and humble to live and preserve the values of peace, solidarity, tolerance, coexistence in the unity of diversity, which must be accepted by every civilized society that wishes to be part a modern and enlightened community.

MP in the Parliament of Montenegro and President of the parliamentary Committee for European Integration Adrijan Vuksanović spoke about the significance of the integration process, about the important role Parliament has in this process, stressing that during recent visit to Slovak colleagues a nice compliment was given- that Montenegro is not only a leader in European integration rather it is the locomotive of this process in the region. The Director Snežana Burzan emphasized that "KIC" fosters an open cultural concept, promotes the richness of cultural diversity of Montenegro and promotes the trends of European civilization that imply the right to diversity and the right to express everyone in their domain of artistic creativity as he/she thinks. The "KIC" is leader in the placement of new cultural concepts, cooperation with NGOs and international organizations and it is the only public institution in the country that has received special recognition for contributing to the general good from ISKRA, concluded Burzan.
The facilitator of the panel was Ms. Milica Muhadinović, on behalf of the Youth Organization of the Montenegrin Pan-European Union, accompanied by a young guitar couple – Matija Đukić and Anja Vujačić.