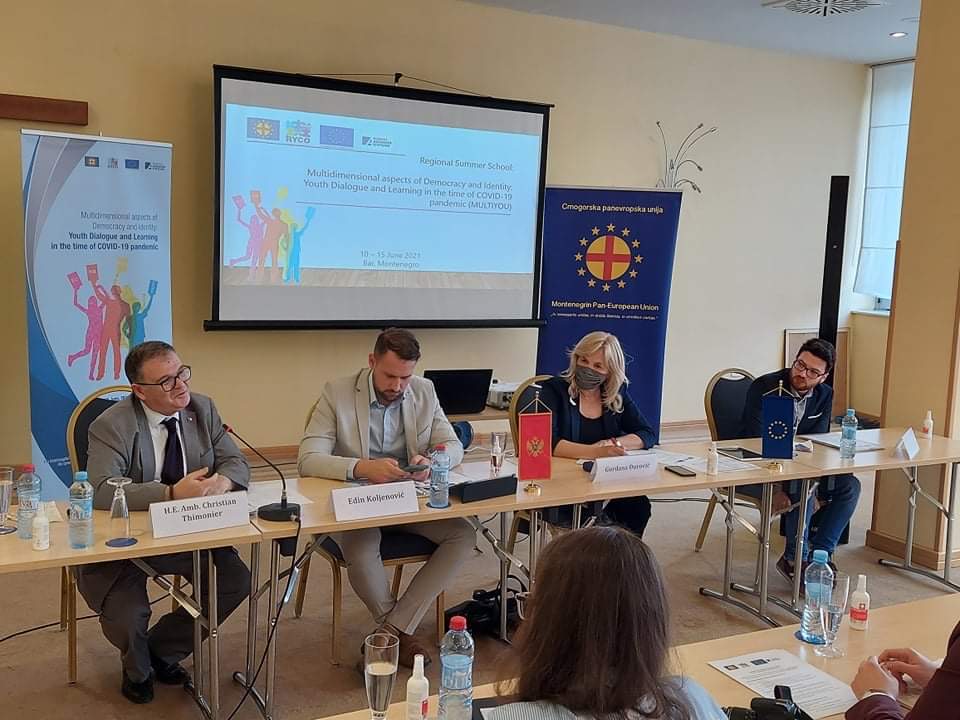 The Regional Summer School organized by the Montenegrin Pan-European Union within the project "Multidimensional aspects of Democracy and Identity: Youth Dialogue and Learning in the time of COVID-19 pandemic" supported by the Regional Youth Cooperation Office (RYCO) and the European Union, has started. The school is held from June 10 – 15, at Hotel Princess, in Bar.
The aim of the Regional Summer School is that participants learn and understand the complexity of the Western Balkan region and multidimensional aspects of democracy and identity through dialogue, learning, exchange of knowledge and experience. The aim is also to exchange good practices in order to improve the position of young people in the region and to make their voices heard in policy-making.
The Regional Summer School is bringing together 24 young people from 4 different places – Albania, Bosnia and Herzegovina, Montenegro and Serbia. The organization of the school was also supported by partner organizations – The Observatory for Children and Youth right, Pan European Union of Bosnia and Herzegovina and Centre for Foreign Policy.
The speakers at the opening of the school were: Professor Gordana Djurovic, President of the Montenegrin Pan-European Union, Edin Koljenovic, Head of the RYCO Local Branch Office, Christian Thimonier, Ambassador of France to Montenegro. Denis Piplas, Project Coordinator at RYCO, also attended the opening of the school.