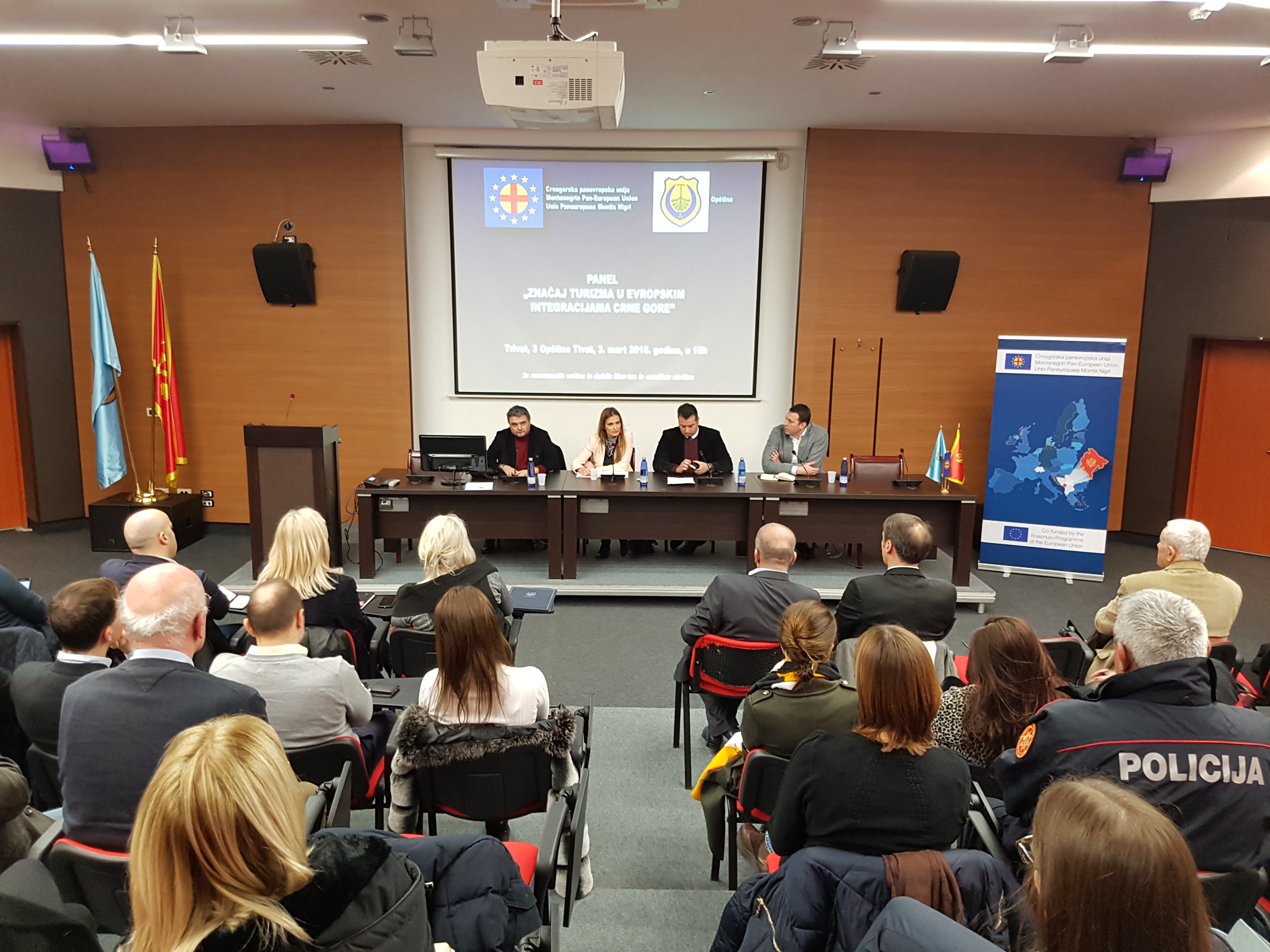 Saturday 03. March 2018. at 18h
The Montenegrin Pan-European Union - MPEU organized a panel in the multimedia hall of the Municipality of Tivat on the topic "Importance of tourism in the European integration of Montenegro" in cooperation with the Municipality of Tivat, with which the Memorandum of Cooperation has been signed.

The key speakers at the panel discussion were Ms. Maja Liješević, Deputy Director of the National Tourism Organization of Montenegro, Prof. dr Ivo Županović, Faculty of management HN and Đorđije Brajović, Secretary General of the Montenegrin Pan-European Union.
The panel's mediator was Adrijan Vuksanovic, vice-president of MPEU and president of the Committee for European Integration in the Parliament of Montenegro. He expressed his satisfaction with the fact that in Tivat, a place where different cultures and civilizations have been merged, and a desirable tourist destination enriched by cultural pluralism, he spoke about tourism from the aspect of European integration.
In front of the Municipality of Tivat, the president addressed to the audience, prof. dr Snežana Matijević, who emphasized the developmental opportunity of Tivat and pointed out the perspective of nautical tourism, and underlined that the natural and cultural potential of the city should be valorized.
During the two and a half hours of panel discussions, it was discussed about the strategic development of tourism and incentives of the state to the tourism industry from the aspect of EU integration, and the quality management of a tourist destination. Participants emphasized that tourism influences the process of European integration through the contribution to the economy, creating a better business environment, and for a development opportunity to improve tourism offers and products, also panelists emphasized the possibility of applying for EU funds, especially through multi-sector projects and cross-border cooperation projects. 
After the panel discussion the questions and comments were welcomed by people present at the gathering, representatives of the media, businessmen from tourism, academia and the laic community. 
Reported by Radio Tivat.