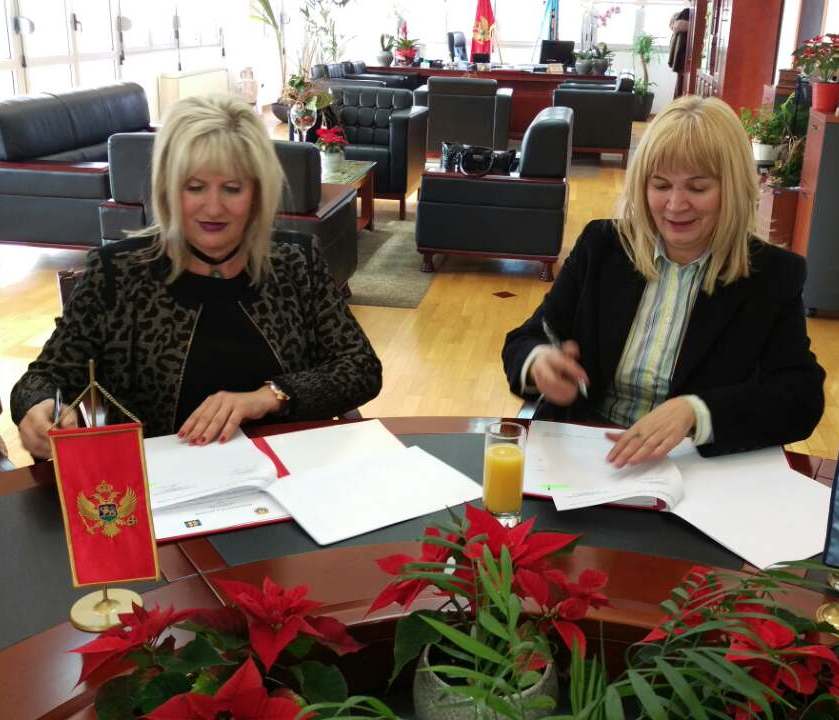 President of the Municipality of Tivat, prof. dr Snežana Matijević and the President of the Montenegrin Pan-European Union, prof. dr Gordana Đurović, signed the Memorandum of Cooperation on January 11th 2017, by which signatories – the Municipality of Tivat and the Montenegrin Pan-European Union (MPEU) committed to establishing long-term and mutually beneficial cooperation. The mentioned cooperation will be reflected through application to joint projects and their realization within the EU and other funds, organization of joint conferences, workshops, public debates and similar events. Moreover, the signing was attended by the Secretary General of the MPEU, Mr. Vladan Lalović.
"I hope that the realization of this cooperation will result in better cooperation and more intensive cooperation of the municipality of Tivat with European cities and regions on the path of European integration," said the president of the Tivat Municipality. Emphasizing the importance of the achieved cooperation, the President of the Montenegrin Pan-European Union, prof. dr Gordana Đurović, emphasized that the recently established Montenegrin Pan-European Union has in up-coming period organization of the first international conference of the Pan-European Union, as well as the first projects will be directed towards the field of culture.
Municipality of Tivat is the only coastal municipality with which the MPEU has signed a memorandum of cooperation. MPEU was founded on May 17th 2016, as a branch of the international organization Pan-European Union, with the aim of working on the presentation of Montenegrin culture in Europe, as well as on the presentation of European cultural and civilizational achievements in Montenegro. The Montenegrin Pan-European Union has one of its tasks to improve the scientific, technological and economic development of Montenegro, in accordance with European standards and achievements, on the introduction of the highest European standards of education and social policy, democracy and the protection of the environment in Montenegro. Pan-European Union is the oldest international movement that affirms the connection of European countries. It is within the Pan-European movement that the original idea of a united Europe emerged.