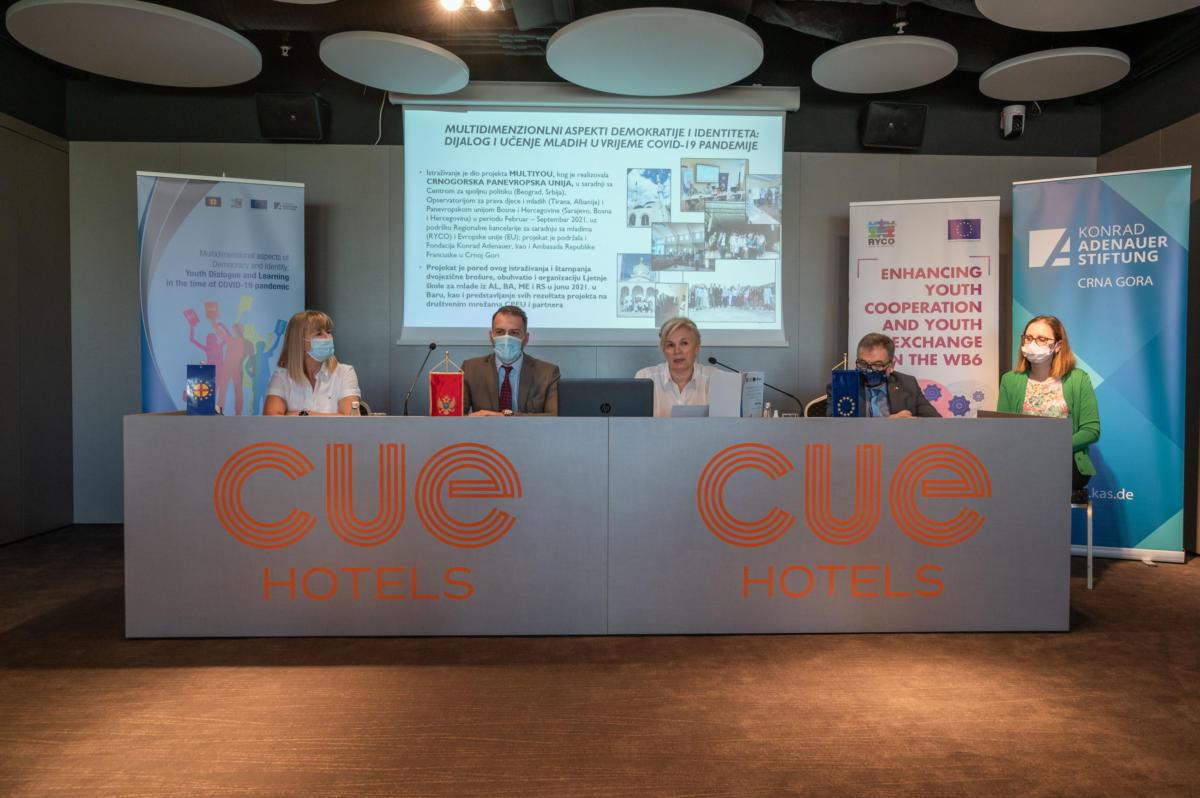 The Montenegrin Pan-European Union organized the final press conference for the project "Multidimensional aspects of Democracy and Identity: Youth Dialogue and Learning in the time of COVID-19 pandemic (MULTIYOU)" at the CUE Hotel. The results of the MULTIYOU project were presented: youth survey on multidimensional aspects of democracy and identity, organized Regional Summer School for young people from Albania, Bosnia and Herzegovina, Serbia and Montenegro, and a bilingual Brochure was prepared.
The Montenegrin Pan-European Union (MPEU) implemented this project in partnership with the Centre for Foreign Policy (Belgrade, RS), Pan-European Union of Bosnia and Herzegovina (Sarajevo, BA), and The Observatory for Children and Youth Rights (Tirana, AL). The project is supported by the Regional Youth Cooperation Office (RYCO) and the European Union (EU). The project is supported also by the KAS Foundation, and French Embassy in Montenegro.
Gordana Djurovic, President of the Montenegrin Pan-European Union, Edin Koljenovic, Head of the RYCO Office in Montenegro, Ambassador of France, H.E. Christian Thimonier, and Head of the KAS Foundation Office in Montenegro, Sanija Sljivancanin, participated in the presentation of the research and project results.
The press release is available at the following link: https://mina.news/crnagora/mladi-u-regionu-nezadovoljni-stanjem-demokratije/
The speeches of our speakers are available at the following links:
Gordana Djurovic (MPEU President) – https://youtu.be/C5Hbzus6AJk,
Edin Koljenovic (LBO RYCO Montenegro) – https://youtu.be/WVloe5aTnZ4,
H.E. Christian Thimonier (Embassy of France in Montenegro) – https://youtu.be/dvqqTLg7BnA,
Sanija Sljivancanin (Konrad Adenauer Foundation) – https://youtu.be/R2Oa2tnOLV8