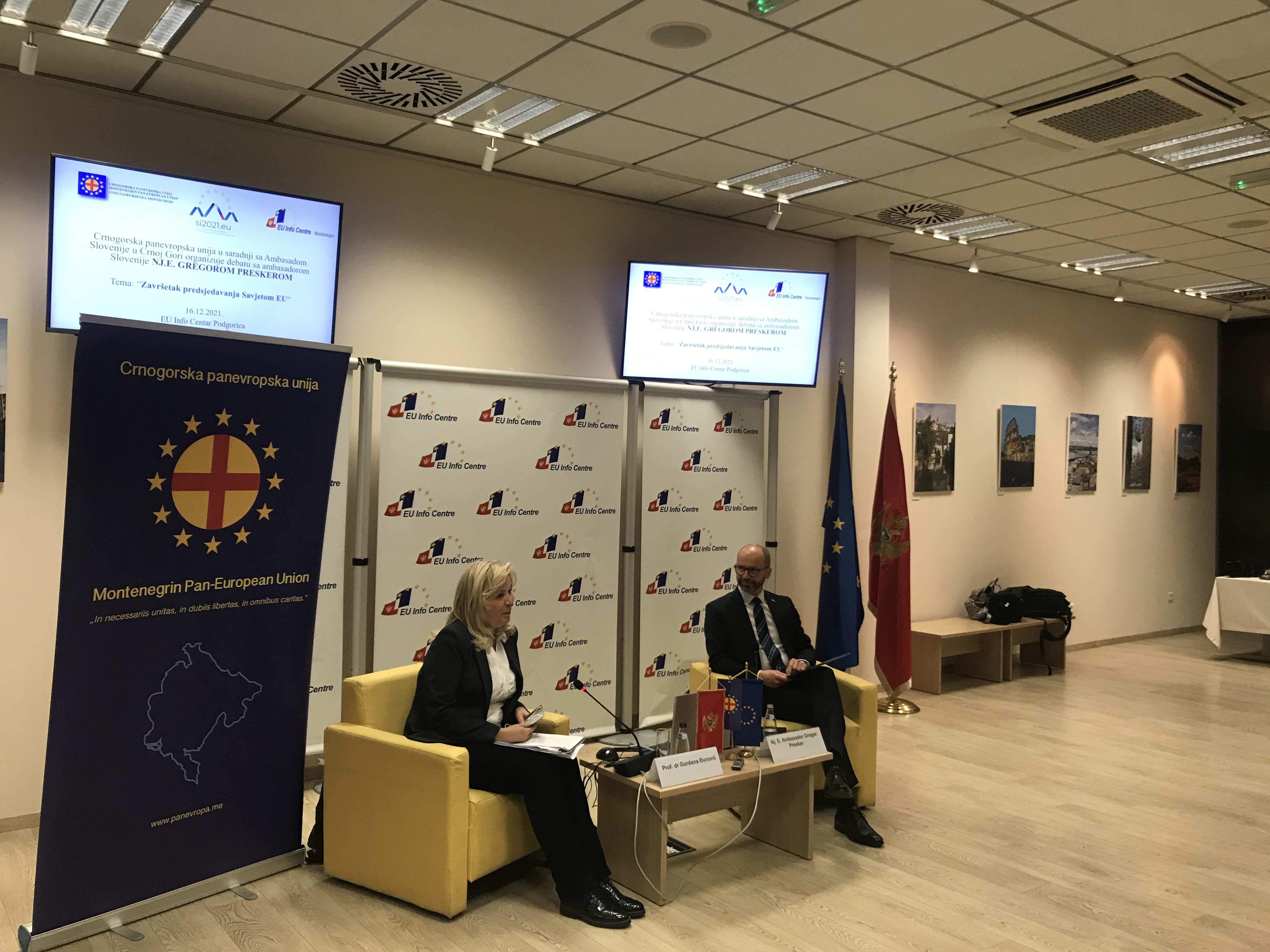 The Montenegrin Pan-European Union, in cooperation with the Embassy of Slovenia in Montenegro, organized a debate in the premises of the EU Info Center as part of a series of traditional gatherings with European ambassadors. This time, the guest was the Slovenian Ambassador Gregor Presker, who spoke on the topic of the end of Slovenia's presidency of the Council of the European Union.
The motto of the Slovenian presidency is contained in the message "Together. Resistant. Europe", and focus was on post-pandemic recovery, which was not an easy task in the overall geopolitical and economic circumstances. Europe has dealt with the recovery of its economies, but also the rule of law in some countries, turning the health crisis into a new challenge – the fight for a green and digital Union, putting EU resilience in broader perspective, and managing European dialogue on the future of the Union, in which the countries of our region also participate.
Ambassador Presker pointed out that Slovenia was satisfied with the results achieved by the presidency of the EU Council in this period, and that a special priority for Slovenia was the issue of enlargement policy and the Western Balkans.
The messages from the EU-Western Balkans Summit in Slovenia in early October were clear – the EU's door is open, the Union supports the process through an investment plan and a green agenda for the region, and the shortest path is through strengthening the rule of law and economic integration.
The end of the Presidency for the countries of the region was symbolically represented by the adoption of the conclusions of the General Affairs Council on enlargement and the Stabilization and Association Process two days ago in Brussels, on whose margins intergovernmental conferences with Montenegro and Serbia were held.
The facilitator of the debate was the President of the Montenegrin Pan-European Union, professor Gordana Djurovic, and students, MPEU Youth, partners, as well as representatives of several embassies of European countries took part in the debate.
On January 1, 2022, Slovenia will hand over the presidency of the Council of the European Union to France.
The event was also covered by the media. The following media published key messages from the debate: