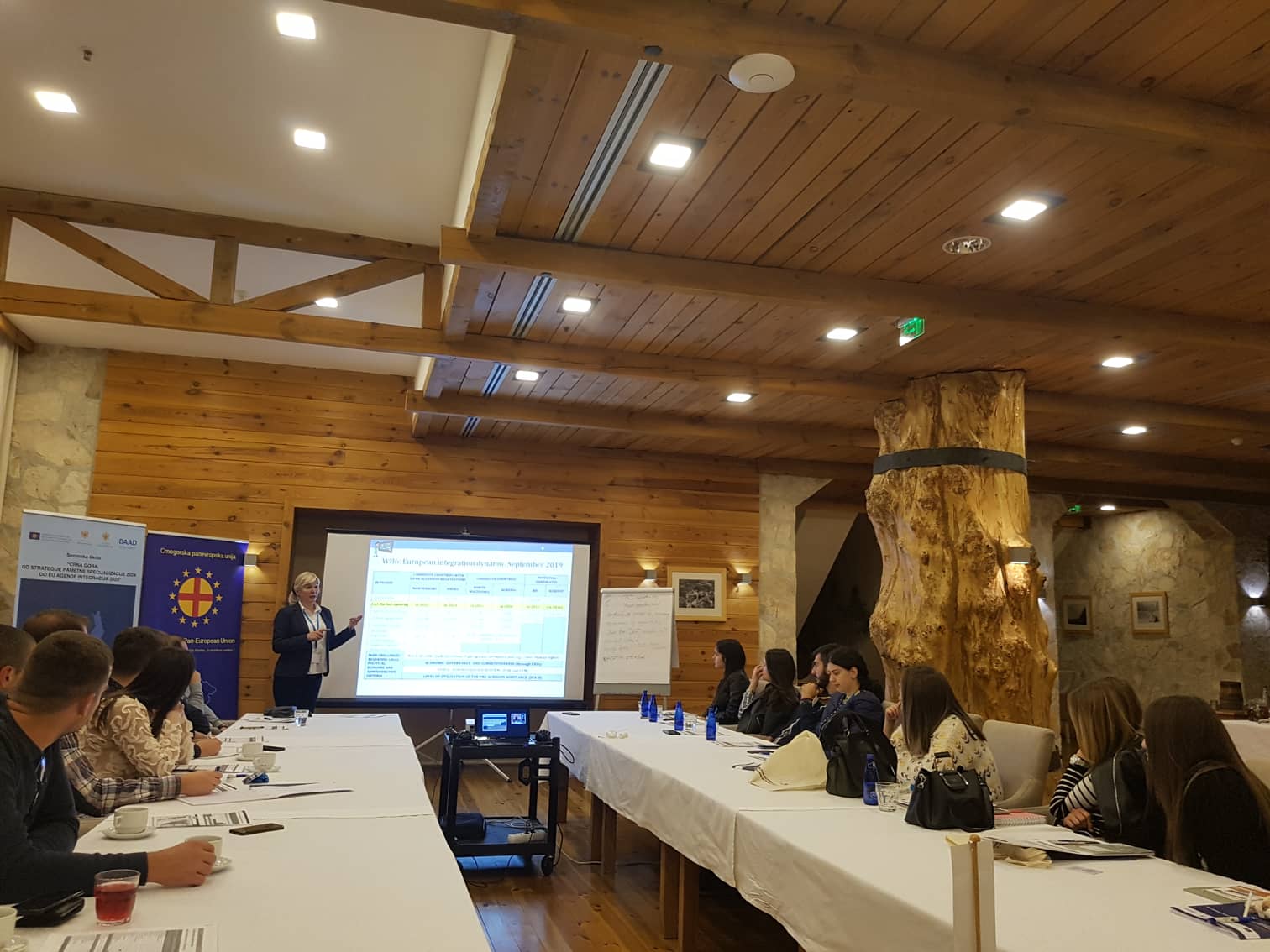 The Seasonal Smart Specialization School was successfully implemented in Kolasin from 7-13 October 2019, organized by the Montenegrin Pan-European Union, with the support and cooperation with the Ministry of Science, Ministry of Economy of Montenegro and DAAD organization from Germany.
SEASONAL SCHOOL: "MONTENEGRO: FROM THE SMART SPECIALIZATION STRATEGY 2024 TO THE EU INTEGRATION AGENDA 2025" (Montenegro: from S3.me 2024 to EI.me 2025) included:
a) all three vertical priorities of Montenegro's Smart Specialization Strategy 2019-2024 related to: sustainable agriculture and food value chain, energy and sustainable environment, sustainable and health tourism, and horizontal priority information and communication technologies (S3.me 2024 )
b) while at the same time placing the overall framework of the strategy in a Euro-integration context (European Integration Agenda 2025)
The multidisciplinary nature of the Seasonal Smart Specialization School is at the same time its added value. However, multidisciplinarity is reflected not only in the areas it covered, but also in the structure of the target group that attended the school, as well as the lecturers who contributed to the dissemination of knowledge and experience in the respective fields.
20 final year students and 9 professors from 4 Montenegrin universities:
University of Montenegro – Faculty of Electrical Engineering, Biotechnical Faculty, Faculty of Economics and Faculty of Philosophy (Department of Geography),
Adriatic University – Faculty of Tourism and Business,
University of Donja Gorica – Faculty of Food Technology, Food Safety and Ecology,
Mediterranean University – Faculty of Visual Design.
The Seasonal School program aimed at contributing to the improvement of the current situation and influencing the number of activities related to perspective scientific and technological fields in which Montenegro should intensively improve the conditions in order to meet the criteria of the negotiation process within the framework of European integration. Activities relate to economic policy and much needed human resources education in these areas. At the same time, the aspiration was to encourage young scientists and researchers, through creative and informal forms of education, to further inform and educate about the areas highlighted in the Smart Specialization Strategy 2019-2024 as well as the areas identified as important for the overall development of Montenegro.