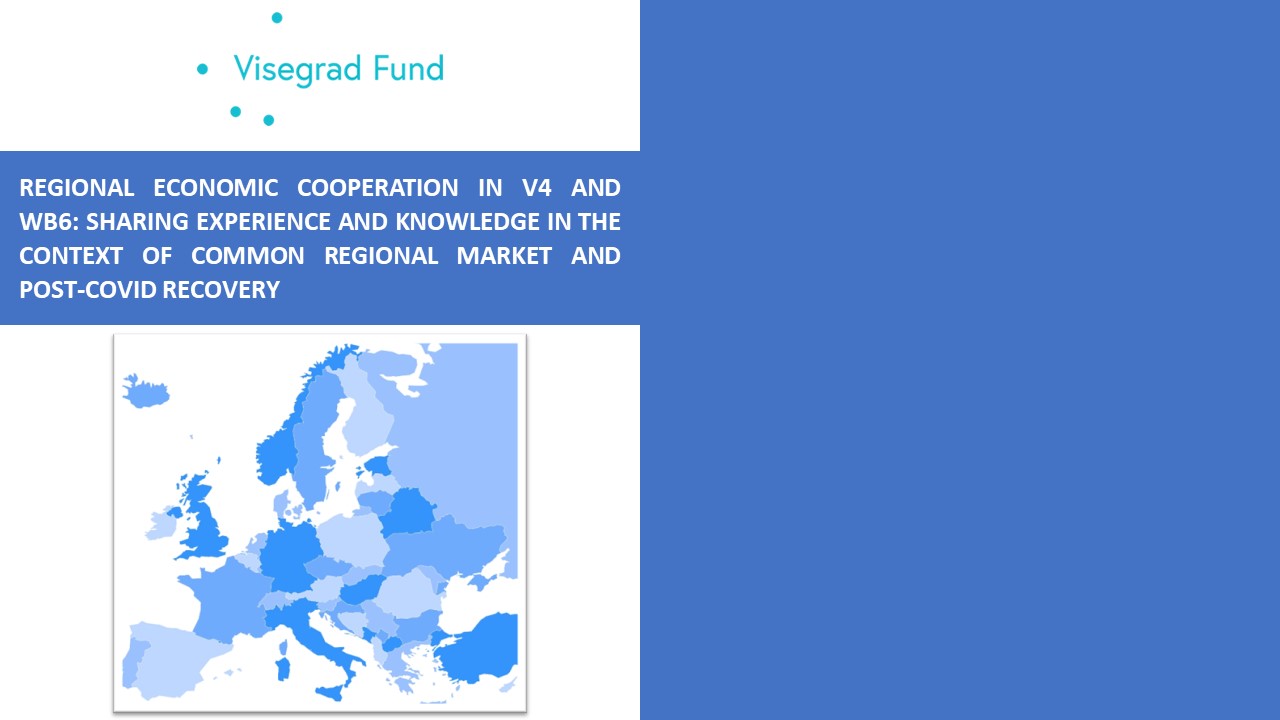 The Montenegrin Pan-European Union has published the book "REGIONAL ECONOMIC COOPERATION V4 AND VB6: EXCHANGE OF EXPERIENCES AND KNOWLEDGE IN THE CONTEXT OF THE COMMON REGIONAL MARKET AND MARKETS" as part of the projects "V4 supports the promotion of the common regional market, one market for post-covid recovery".
In addition to 10 chapters from 10 countries and joint recommendations for improving regional cooperation, the book explores the current topic of regional economic integration of the Western Balkans and critically analyzes proposed models such as the CEFTA 2006 agreement, the Action Plan for a common regional market, behind which six governments of the region and EU in November 2020, as well as a new proposal such as the Open Balkans initiative from 2021, which failed to bring together all the countries of the region.
President of the Montenegrin Pan-European Union, prof. Dr. Gordana Đurović, presented the structure of the e-book and its recommendations, with special reference to the differences between the current proposals of the Action Plan for a common regional market within the Berlin process for VB6 and the Open Balkans initiative for VB3.
Research team:
Gordana Djurovic (Montenegrin Pan-European Union, Editor), Šárka Shoup, Blanka Kovać (Institute for politics and society – IPS, Prague, Czech Republic), László Árva, Szabolcs Pasztor (Union of the Robert Schuman Institute for Developing Democracy in Central-Eastern Europe, RSI, Budapest, Hungary), Stanislav Bieliei, Agnieszka Pechcińska (Center for Social and Economic Research, CASE, Warsaw, Poland), Martin Hudcovský, Karol Morvay (Faculty of National Economy, Bratislava), Zef Preçi, Ilir Ciko (Albanian Centre for Economic Research, ACER and Canadian Institute of Technology (CIT), Tirana, Albania), Faruk Hadžić, Haris Ćutahija (Foreign Policy Initiative, FPI, Sarajevo, Bosnia and Herzegovina), Bojan Srbinoski, Blagica Petreski, (Finance Think – Economic, Research and Policy Institute, Skopje, North Macedonia), Visar Vokrri, Alban Hashani (Institute for development research, RIINVEST, Pristine, Kosovo), Milica Muhadinovic, Petar Raicevic (University of Montenegro and Montenegrin Pan-European Union), Dragan Djukanovic, Predrag Bjelic (Centre for Foreign Policy, CFP, Serbia and University of Belgrade).
You can download e-book HERE.