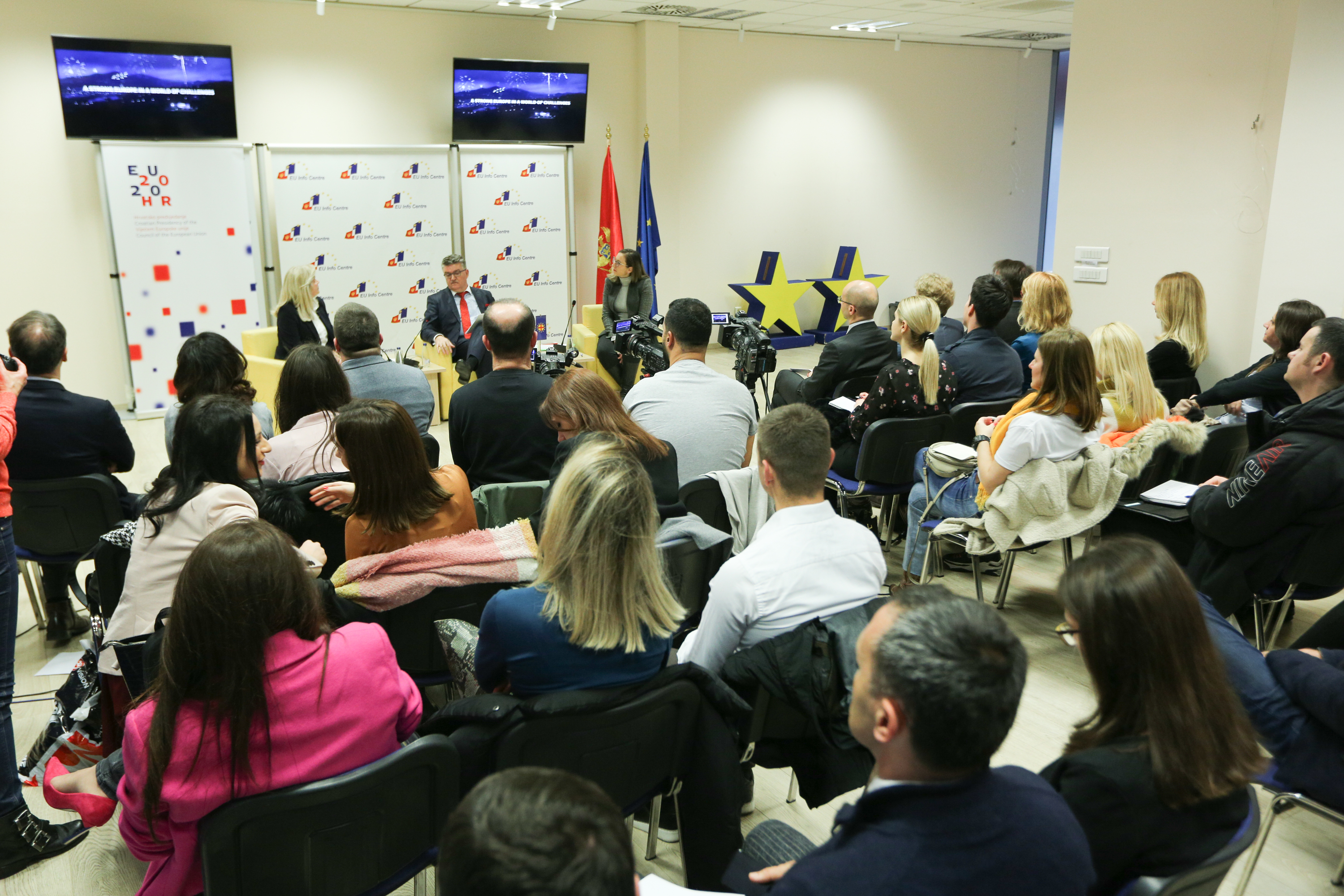 On Tuesday, February 11th, the Montenegrin Pan-European Union debate was held at the EU Info Center on "Priorities of the Croatian EU Council Presidency".
At the first debate in 2020, the guest of the Youth of the Montenegrin Pan-European Union was Ambassador of the Republic of Croatia to Montenegro H.E. Mr. Veselko Grubisic.
As the media reported, Montenegro is a leader in European integration, and everyone's goal is to be ready for EU membership by the end of the term of current Commissioner for Enlargement, Oliver Varhelyi, said Veselko Grubisic, ambassador of Croatia, the country currently holding the EU Council Presidency.
It is good, says the Croatian ambassador, that Varhelyi visited Montenegro. He is also encouraged by his message that at least one of the six Western Balkans countries will be ready for the EU by the end of his term.
He believes that the situation regarding the Law on Freedom of Religion will be overcome. "Let mutual dialogue, inclusiveness and patient dialogue overcome and find the best solutions so that all participants in society can contribute to accelerating the path towards EU membership," Grubisic said.
And Croatia, for its part, during its Presidency of the EU Council, will strive to support a consistent and effective enlargement policy. "A credible enlargement policy, guided by the principles of our own achievements and fair conditionality, effectively fosters reform processes and is a guarantee of the prosperity and stability of Southeast Europe," Grubisic said.
And the new EU negotiation methodology, says Montenegrin Pan-European Union President Gordana Djurovic, should be read in the positive manner. "In the sense that it is intended to make the process more transparent to all concerned, to understand it better and to expedite as much as possible for those who are committed to work on reforms. So this is a kind of positive competition that Montenegro has never run away from, "Djurovic said.
The ambassador of Croatia thinks that the new model is ideal for Albania and North Macedonia. "When they start, they can go very measurably forward, see the rewards, and the political elites will not be able to say, we are great, because it is a financial reward, if you are accelerated you simply have more resources, "said Grubisic.
A strong Europe in a challenging world is the slogan of Croatia's EU Council Presidency, and the country's ambassador to Montenegro hopes for good news from Zagreb, where the Union-Western Balkans summit is being held in May.
The introductory remarks were followed by a discussion with the attendees on diverse topics.
Source: https://www.cdm.me/
Presentation about program: https://vlada.gov.hr/UserDocsImages/Vijesti/2019/12%20prosinac/31%20prosinca/web_FINAL_PROGRAMME_EN_FINAL.pdf