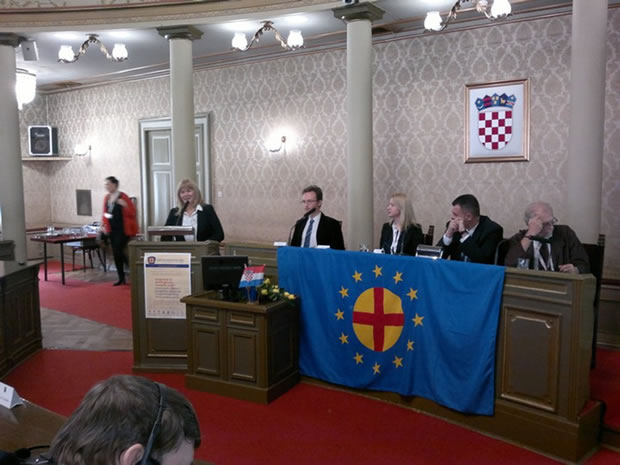 Public announcement on the occasion of the participation of the Montenegrin delegation at the international conference of the Pan-European Union, held in Zagreb on October 21-23, titled "Integration or Disintegration of the European Union – Pan-European Response and Perspectives of Integration in Southeast Europe quarter of a century after".
"In the coming years for the countries of South Eastern Europe, which are candidates for EU membership, the key priorities are good regional cooperation and strengthening of good neighborly relations. These are prerequisites for meeting the criteria for joining the European Union. With the rule of law, these activities are the main challenges in the process of European integration. This will be in the focus of Pan-European actions and initiatives of the Montenegrin Pan-European Union that will serve these goals", said the President of the Montenegrin Pan-European Union, Prof. Gordana Djurovic PhD at the final international conference of the Pan-European Union in Zagreb.
The Prime Minister of the Republic of Croatia, Andrej Plenković, addressed the participants of the conference, who spoke about the current political situation in Europe and stressed that it is the duty of all leaders to maintain European unity: "It will be difficult to resist a strong populist attack on the European project that comes from left and right. The task of all Europe's leaders is to preserve and restore confidence in this project, and every contribution from the Pan-European Union will be precious", said the Croatian prime minister.
The conference speakers were also representatives of pan-European organizations from 14 countries, as well as Croatian Pan-Europeans, hosts of this grand gathering in honor of the silver jubilee for 25 years since the founding of the Croatian Pan-European Union (HPEU), as well as representatives of the Croatian Government and European institutions, among them the Minister of Foreign Affairs and European Affairs Davor Ivo Stier, President of the International Pan-European Union Alain Terrenoire, President of the Croatian Pan-European Union and Minister of Science and Education Pavo Barišić, as well as the representatives of the European Parliament Dubravka Šuica and Marijana Petir.
The Pan-European Union is the oldest peace-building movement for the unification of Europe that failed to prevent the outbreak of World War II, but after that, it resolutely participated in the creation of the EU and the already 71-year-old peace in most of Europe. It arouses awareness of the common identity of European nations and states, as well as the unity in diversity of their cultures, spiritualities, traditions and all other specialities that bring together the invaluable wealth of the old continent. In the Montenegrin delegation, besides the president, attendees of the Conference were General Secretary Vladan Lalovic and a member of the young people, Djordjie Djurovic.