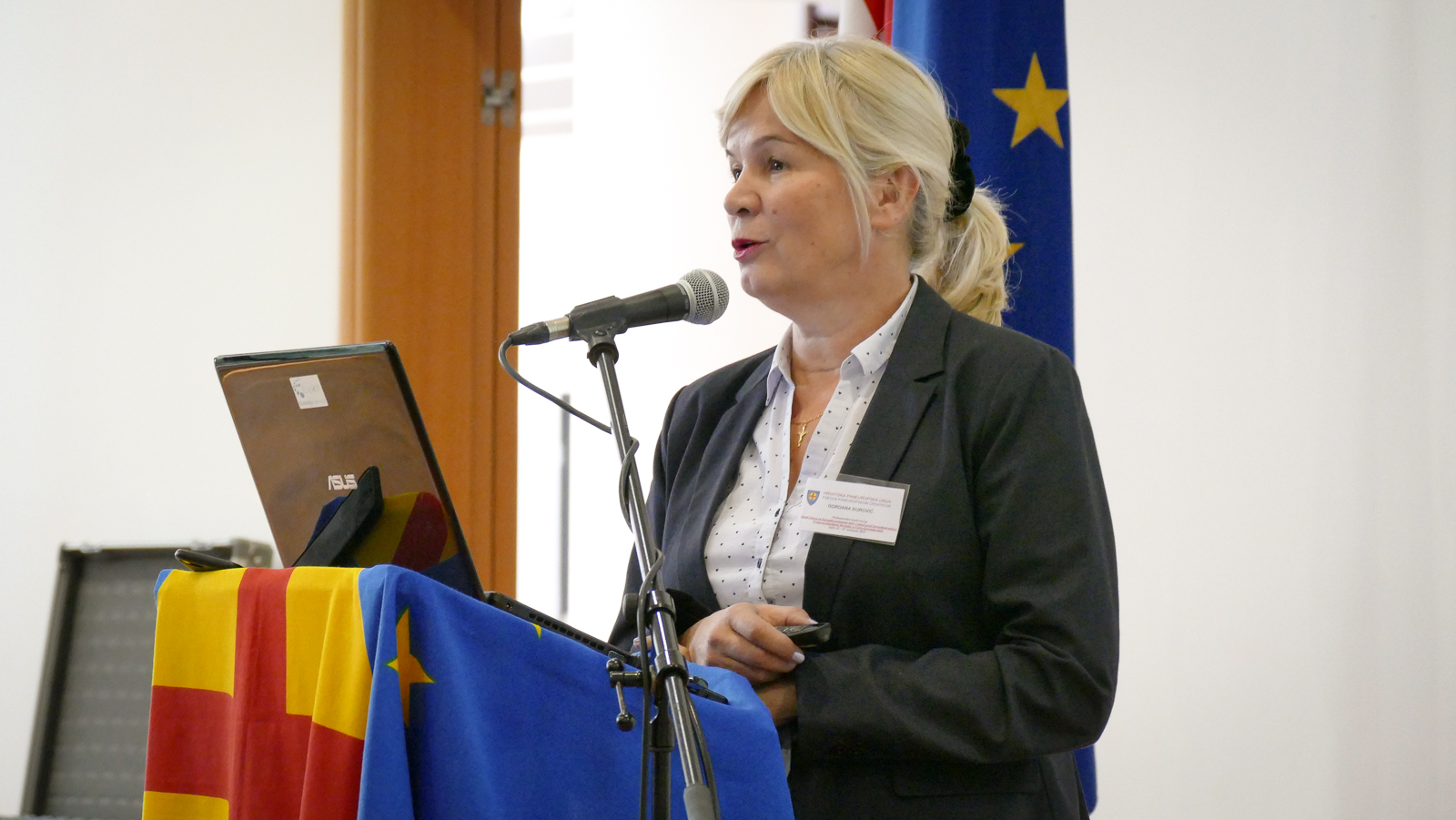 The International Pan-European Union Conference 'European Parliament Election Results for the 2019  and Challenges Before the European Union – Towards the Presidency of Croatia in the Council of the European Union' was held in Split on 25-27 October. The conference held in the hall of dr Karl Balic at the Franciscan Clergy in Split, brought together numerous representatives of public and political life from Croatia and many European countries. Representatives of Croatian authorities, MEPs and members of pan-European organizations from Croatia, Bosnia and Herzegovina, Montenegro, Serbia, Kosovo, North Macedonia, Germany, Sweden, France and Austria participated and address the audience.
On behalf of the Montenegrin Pan-European Union, prof. Gordana Đurović, PhD, President of the MPEU, spoke on the topic: Challenges ahead of the EU – a view from enlargement countries, and Milica Muhadinović, MSc., President of the MPEU Youth, who addressed  the issue of youth in the countries of the region.
"The European elections are behind us and the citizens have made it clear that despite all the challenges the European Union has, they are for the pro-European policy. This encourages, but also obliges, to think more seriously about the future of the European Union. We will also soon have a new European Commission, in which Croatia and the Vice-President of the European Commission Dubravko Suica will undoubtedly play a very important role, as they will be in charge of demography and democracy. I am convinced that Ms. Suica will make a significant contribution to the debate in shaping the European Union, taking into account at the same time the countries of our neighborhood that wish to become EU members. We are discussing these topics, but also the recent Croatian EU presidency, at the Pan-European meeting in Split, from which clear pan-European and pro-European messages will be sent," said Academician Ježić, President of the CPEU. The Declaration of the participants was also sent from the conference.
The Pan-European Union is an organization that, since its inception 1922, has championed Pan-European unity, and it was precisely  the Pan-European Union who was the originator of the idea of ​​the European Union creation. This organization has been operating in Croatia since 1991 and has made a major contribution to the key moments of modern Croatian history. Today, there are more than 50 MEPs in the European Parliament who are also members of Pan-European organizations in their countries.
The conference was supported by: Ministry of Foreign and European Affairs, Ministry of Culture, Konrad Adenauer Stiftung, Hanns Seidel Stiftung, Robert Schuman Stiftung, County of Split-Dalmatia, City of Split and City of Split Tourist Board.